Welcome!!! Bienvenidos!!!
We cordially invite you to participate with us in a new outreach here in our valley & other Nations.
Sun Valley, Ketchum, Hailey, Bellevue and the County of Blaine Co. Idaho, USA & around the World.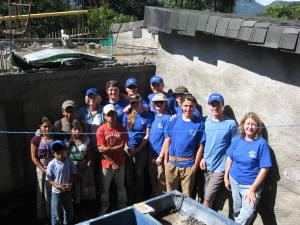 NEW PICTURES FROM HOUSE BUILD IN GUATEMALA.
We got the Frame Up & The Group in Blue; What a Blessing.
From Guatemala with Contentment
The August, 2013 mission trip to Guatemala, organized by Abundant Life Ministry (Tito and Dartha Rivera) and supported financially through fundraising, individual donations, and also by Presbyterian Church of the Big Wood in Ketchum, Idaho, was tons of fun, plus loads of work. The Guatemala group, comprised of seven adults and four teenagers, came home with weary bodies but renewed spirits. God truly took care of us. There were numerous opportunities to be patient, flexible and loving…Our morning devotion theme of Contentment came up frequently throughout our time together. We praise God for His protection and safety in addition to the honor of building a secure house for these families…to us little more than an enclosed shack…but for them a palace.
The job of building the house was hard work–plain and simple. All participants were anxious to get started and willing to work hard. This turned out to be essential, as many of the promised church volunteers never materialized. Everyone worked wherever needed without complaint. It truly was completed through teamwork.
Even though our days were full, evenings gave us the chance to relax. After dinner and washing dishes at the pastor's house, (twice wading through the rain water gushing down the stairs and the only path to his house entrance) we returned to our hotel for a much needed shower in relatively warm water. Afterwards we met together for a group study. We were led in crazy chants/dances and silly word games, and, on a more serious note, considered the idea of Living a Bucket Life Instead of Living for a Bucket List—that who we are in character is much more important than what we may do in life, no matter how virtuous or even grandiose.
The entire trip was great fun! Each of us grew personally and together. We stand in unreserved awe of our Lord, Who took this group of seven adults and four teenagers—complete with strong personalities and established opinions, yet at the same time with a simple willingness—and used us for His glory. Not only was the goal of building the houses accomplished, but friendships that cannot be explained were built. Each of us holds inexpressible joy and deep thanksgiving for this extraordinary opportunity. Thanks be to God. Bless His Holy Name.